MBT Bank

"We will help our communities prosper and grow." - MBT Core Value
As a community bank, part of MBT Bank 's mission is to help support community events and organizations that help our communities grow. From sponsoring community events to helping raise money for local charities, MBT Bank works to better Forest City, Clear Lake, Lake Mills, Rochester and the surrounding areas for the future.
Sponsorship & Donations
If you are interested in MBT Bank sponsoring your event or making a donation, please complete our Sponsorship & Donation Request Application. Due to the amount of requests we receive, we are unable to fulfill all requests.
Employee Giving

In addition to sponsorships and donations, MBT Bank employees also donate their time and resources to many local causes:

Relay for Life: In recent years, our MBT Bank Relay for Life Team has raised nearly $27,000 for the American Cancer Society through various fundraisers and events.
Jeans Day Donations: The last Friday of every month, employees may choose to give a small donation to wear jeans. These funds are donated to local charities and organizations.
Christmas Toy Drives & Giving Trees: Each year, our branch locations pool their own money purchase items for local toy drives or giving trees.
United Way: MBT Bank employees participate in a bank-wide donation program to support the United Way in their respective areas. Funds are deducted monthly through a payroll deduction. 
Hanson Foundation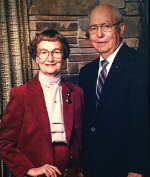 In keeping with their lifelong dedication to the communities and people they loved, John and Luise established and funded The Hanson Foundation in 1970 with a $1,000,000 gift. In 1998, they contributed another $1,000,000; and upon John K. Hanson's death, the Foundation received a number of shares of Winnebago Industries, Inc stock - a company John & Luise spent their lives building.
John K. and Luise were committed to giving back to their community and to provide a means of enhancing the quality of life in North Central Iowa through activities involving youth, parks, recreation, and programs affecting large groups of community members. 
Luise and John K., through the Hanson Foundation, will forever be a part of the lives here in the North Central Iowa area, continuing to give back and still be a part of the community they so loved. John K. & Luise V. Hanson were also the founders of Winnebago Industries, Inc.
For more information on The John K. & Luise V. Hanson Foundation or to apply for funding, visit their website: http://www.hansonfoundation.org/