MBT Bank

The Power to Keep Life Affordable
At MBT Bank, we're committed to providing the best products and services available on the market. Our personal checking account line-up is designed to provide an account catered specifically to your lifestyle, and several of our accounts offer incredible perks and added benefits - all "powered by BaZing."
In addition to Anywhere Banking Tools like Online & Mobile Banking, Bill Pay, and E-Statements, accounts powered by BaZing include: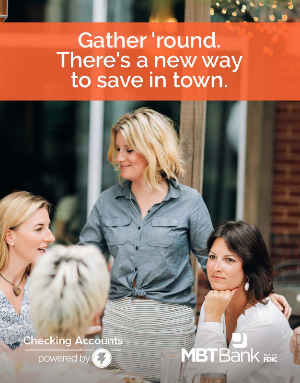 Incredible Discounts
- Shop Local. Save Local. With BaZing, you'll find over 360,000 discounts at local retailers as well as at national merchants. Save on everything from groceries and oil changes, to prescriptions and dining.
Cell Phone Protection
- Just pay your cell phone bill with your BaZing checking account, and you're covered. If your phone is broken or stolen, BaZing will pay to have it repaired or replaced, up to $400 per claim (maximum of $800 per year).
ID Theft Aid
- coverage including Payment Card Fraud Resolution, Personal Identity Theft Benefit up to $2,500 and help with Identity Resolution.
Roadside Assistance
- Lock your keys in your car? Car won't start? Roadside assistance is available 24/7. It's free to use, up to $80 in covered service charges.
Register or login
into your Bazing account to view available discounts in your area.
 To learn more about the specifics of the BaZing program, check out our Supplemental Guide that goes over all the benefits in detail.


Cell phone protection and personal identity theft benefit are subject to additional terms and conditions. Insurance products are: NOT A DEPOSIT. NOT FDIC-INSURED. NOT INSURED BY ANY FEDERAL GOVERNMENT AGENCY. NOT GUARANTEED BY THE BANK. Participating merchants on BaZing are not sponsors of the program, are subject to change without notice, may not be available in all regions and may choose to limit deals.